Welcome
I'm a software developer who works on version control tools at Microsoft in Cambridge, Massachusetts. I work on the Git repository management functionality in Visual Studio and Team Foundation Server, as well as the libgit2 and LibGit2Sharp projects.
I also write occasional blog posts about version control and developer tools, and wrote the Git chapter of Professional Team Foundation Server 2013. In addition, I maintain a few open source projects in my spare time.
September 10, 2014
▪
10:42 AM
I noticed last night that Jared Parsons had cheerfully tweeted about the Visual Studio ASCII art logo that shows up when you clone a repository from TFS and Visual Studio Online:

Usually I hate extra graphics but the ASCII art generated from a VSO git repo on "clone" is oddly cute

— Jared Parsons (@jaredpar) September 9, 2014
In case you haven't seen this, it looks something like: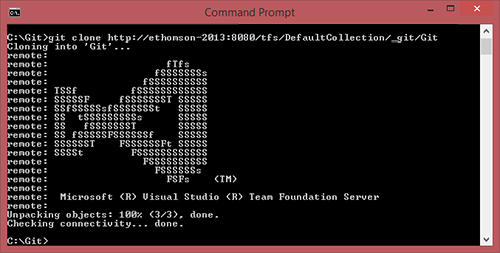 This silly little bit of
ASCII
gives me a smile every time I see it; we hope it gives you one, too.